The North South derby takes centre stage as DHL Western Province host the Vodacom Bulls at Newlands. This titanic Carling Currie Cup battle kicks off at 7pm. Follow all the live action here!
1′ Off we go at Newlands. 
2′ That didn't take long! Johan du Toit rampaging through the gap and he passes beautifully to Paul de Wet. Easy conversion for Tim Swiel. 7-0 to DHL WP.
3′ Bulls hit back as Richard Kriel scores in the corner. Johan Goosen converts to level matters.
5′ Nama Xaba with some expert play at the breakdown. The penalty is awarded and of course, Tim Swiel obliges. DHL WP ahead 10-7.
10′ It's been a frenetic pace with DHL WP bossing the territorial game. 
13′ Bulls take the lead against the run of play. Try from a misplaced lineout.
20′ Swiel narrowly misses a penalty from range.
25′ Bulls go further ahead through Goosen's boot.
35′ Not long to go in the half. DHL WP trail 13-17.
36′ Scarra Ntubeni shown a red card after being adjudged to have made a reckless high tackle.
37′ Bulls flank Marcel Coetzee pinged for not rolling away.
40′ Back underway. Massive effort coming up in the next 40.
43′ Evan Roos denied on the line. 
50′ Already 10 minutes gone in the half. End to end stuff but the Bulls stay ahead.
51′ Bulls score. They strech the lead to 24-13.
54′ The visitors kick to the corner. But they are penalised. DHL WP move out of the 22m.
60′ DHL WP move into the Bulls' 22m. #wpjoulekkerding #dhldelivers 
61′ Still the hosts camped deep inside the Bulls' half. Score remains 13-24.
65′ DHL WP defence holds firms. Big scrum from the pack and the Bulls are penalised. Swiel moves the ball up to the halfway mark.
70′ Bulls move the score to 27-13 as the clock winds down.
77′ Hendricks scores. Bulls move into a 34-13 lead.
80′ Full time at Newlands. 
Pre-match talk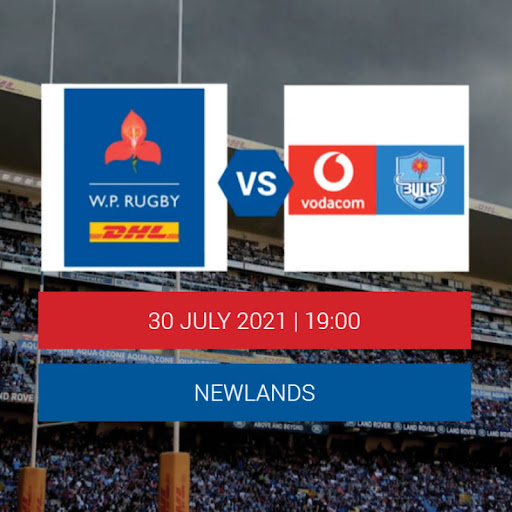 Hear from Juan de Jongh on being home and taking the armband tonight, Neethling Fouche on the physical effects of the past few weeks and returning to Newlands plus coach John Dobson. All this and more – click HERE!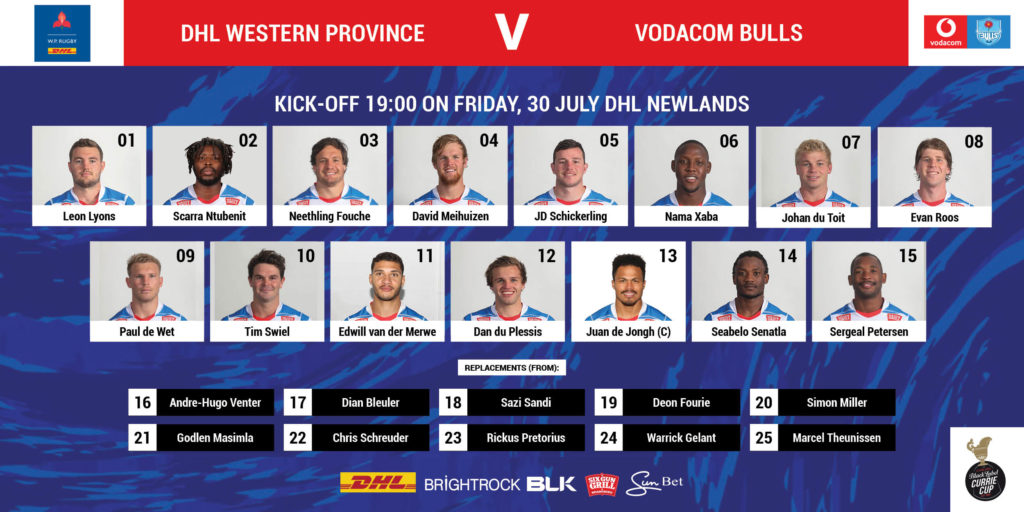 Team news and looking ahead to the game – click HERE!
Coach John Dobson on building momentum – click HERE!